Chozo Shaman
From Metroid Wiki
Jump to navigation
Jump to search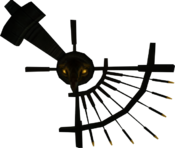 Chozo worship was apparently led by religious leaders known as Chozo Shamans. Two busts of Chozo Shamans made of Brinstone are on display at the Phendrana center of worship on Tallon IV, the Chozo Ice Temple.

When Samus Aran visits the abandoned Ice Temple, the two busts act as a sort of lock blocking access to the Chapel Tunnel. One of the busts adorns the wall in the upper hallway,[1] and the other adorns a decorative gate blocking access to a Blue Door. The bust on the gate has a symbol carved into its forehead that reads, "To pass my gaze, seek my twin within this room."[2] Samus can use a Missile to shatter the weakened Brinstone bust, revealing a Bomb Slot. When she uses a Morph Ball Bomb to active the slot, the gate will move aside and she will gain access to the Chapel Tunnel.
Trivia
The bust depicting the Chozo Shaman is visually identical to the bust depicting the Chozo Philosopher.
This bust model, while it cannot be scanned, can also be seen in the Chapel Tunnel.
References
↑ "This is a statue depicting the bust of a Chozo shaman. Several stress fractures can be seen running along the surface of this Brinstone object." —Scan Data (Metroid Prime)
↑ "A statue depicting the bust of a Chozo shaman adorns this door. A symbol is carved into its forehead. The translation reads, 'To pass my gaze, seek my twin within this room." —Scan Data (Metroid Prime)