Fuel Gel
From Metroid Wiki
Fuel Gel is a flammable energy source found on the planet Bryyo, originally discovered by Bryyonian Lords of Science.[1] Fuel Gel is the main fuel used in Galactic Federation spacecraft, making Bryyo a very important planet for the Galactic Federation.[2]
Properties
Ecology
Fuel Gel is not harmful to all lifeforms. Gel Rays are known to reside in pools of hot Fuel Gel. Scorchbugs and other small lifeforms consume it for nutrition.[3][4]
Production and Piracy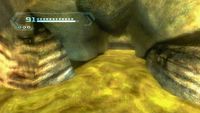 Fuel Gel is extremely rare, and worlds that produce it tend to be quite prosperous. The exception to this is Bryyo, a Federation protectorate and the largest supplier of Fuel Gel. Proceeds from Bryyonian gel sales go directly to the Federation military forces protecting that sector of space, where the Federation has established such a strong presence that the entire system has been dubbed the Federation Solar System.
The sheer value of Fuel Gel is very attractive, and has led to an uprise of piracy over the 20 years preceeding the events of Metroid Prime 3: Corruption. At the time Samus visited the planet in Corruption raids on gel transport convoys were common, especially in frontier regions of space. The Galactic Federation has increased antipiracy operations, and planets with Fuel Gel resources are protected by Federation fleets and ground forces.[2]
Logbook
Trivia
The Metroid manga introduced a similar substance used as fuel as well known as Afloraltite, this substance, however, seems to have been replaced by Fuel Gel.
References
↑ "Forgotten in exile, a creature of myth, I, the last Lord of Science, worked tirelessly to protect myself and this world. I crafted magics and machines to bring life back to the wastelands. I found a new source of natural energy in the land and called it Fuel Gel. I vowed to atone for the devastation inflicted upon Bryyo, caused by both science and war. Yet, while I toiled, the Primals slipped slowly into barbarism. With no Science Lords to hunt, they turned on each other, tribe against tribe. Magic was lost to them, and they became as savage as the predator beasts of the wild." —Bryyonian Data - Decline (Metroid Prime 3: Corruption)
↑ 2.0 2.1 2.2 "Fuel Gel is used to power most modern starships in the cosmos. It is extremely rare, and worlds that produce it tend to be quite prosperous. The exception to this is planet Bryyo, a Federation protectorate--and the largest supplier of Fuel Gel. Proceeds from Bryyonian gel sales go directly to the Federation military forces protecting that sector of space.
The sheer value of Fuel Gel is very attractive, and has led to an uprise in piracy over the last 20 years. Today, raids on gel transport convoys are common, especially in frontier regions of space. The Galactic Federation has increased antipiracy operations, and planets with Fuel Gel resources are protected by Federation fleets and ground forces." — Logbook "Fuel Gel" (Metroid Prime 3: Corruption)
↑ "Gel Rays are nonaggressive bioforms native to Bryyo. They are one of the few creatures who make their home within the caustic pools of Fuel Gel. The unique exterior and shape of the Gel Ray allow it to withstand and glide through rivers of gel. Their main source of sustenance is small organisms that exist within Fuel Gel, but they are known to occasionally leap out to feed on insects that fly near the gel's surface." —Logbook - Gel Ray (''Metroid Prime 3: Corruption)
↑ "Scorchbugs are exclusively found on Fuel Gel-producing planets such as Bryyo. The tiny insects subsist entirely on the volatile gel. Like many creatures with this diet, they have taken on the ignitable characteristics of their food source. When shot with any type of weaponry, they burst into a small explosion, leaving behind only a scorch mark. It is from this trait that they have earned their name." —Logbook - Scorchbug (Metroid Prime 3: Corruption)