Game Over
From Metroid Wiki
Jump to navigation
Jump to search

This article is a stub. You can help Metroid Wiki by expanding it.
Metroid Wiki is in need of filling in various stubs!

This article or section does not cite, or does not have enough, references or sources.
Please help improve this article by introducing appropriate citations.
A Game Over occurs when Samus's energy reaches zero or the timer for a Countdown runs out -- that is, whenever Samus dies. Progress in the game stops immediately and the player must continue from their last Save. A Game Over is usually accompanied by a brief cinematic and the option to continue or quit.
In Metroid, Samus explodes and she sees a black screen "Game Over" then the options "Continue" and "End" will appear. Above, the player will see the password to save the progress. In the Famicom version, the player sees Samus crouched down and the same options as the NES version, but they will see a text that says "DEFEAT MOTHER BRAIN AND THE METROID THREAT"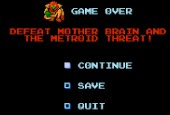 Metroid II: Return of Samus

[

edit

|

edit source

]
In Metroid II: Return of Samus, Samus disintegrates and then you see Game Over, but here the player does not have the option to continue or exit, but instead, they will return to the last point where the game was saved.

Before there was a censorship on the Game Over screen since it was believed that under the suit Samus was naked, although nothing far from reality, the player can still see Samus half naked only covered by a bikini.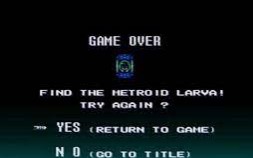 First, the player sees see Samus floating in the air and her suit is destroyed in a halo of light, then you see "Game Over" and the options to continue and exit, in the background is a nebula.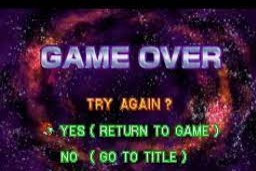 In Metroid Prime, the life support of the suit is turned off and Samus dies at that moment while a large crack is seen in the visor of her helmet.