I-Sha
From Metroid Wiki
Jump to navigation
Jump to search
I-Sha was the last Sentinel of the Agon Temple on Aether.[1] Samus encounters the message left by I-Sha via Luminoth Holoprojector in the Agon Energy Controller chamber of Agon Wastes. In the message, I-Sha explains the nature of Dark Aether, calling it a "twisted mockery" of the sacred temple.[2] The hologram also contains instructions concerning the measures that must be taken to retrieve the Light of Aether from the Dark Agon Temple, the purpose of Light Crystals, and updates Samus's Translator Module to read Amber holograms.[3] I-Sha ends the message with the usual Luminoth expression of goodwill.[4]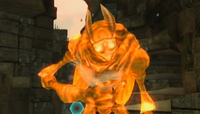 In subsequent messages, I-Sha makes reference, directly or indirectly, to the Portals to Dark Aether,[5] the Dark Beam,[6] the Light Beam,[7] and the Dark Suit.[8] I-Sha's hologram is last seen appearing spontaneously to bow in thanks to Samus after she returns the Light of Aether to the Agon Energy Controller.
A corpse presumed to be I-Sha's is discovered in the Agon Energy Controller by Samus. Information collected from it indicates that I-Sha died some 1.5 decacycles prior to her arrival and was killed in battle.[9]
Gallery
References