Light of Aether
From Metroid Wiki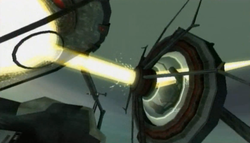 The Light of Aether is a collection of planetary energy gathered by the Luminoth of the planet Aether. It is comprised of various types of energy including solar, bio, and geothermal,[1] and is stored in Luminoth constructed devices called Energy Controllers.
Preservation
When Aether's planetary energy supply reached a critical stage during the Luminoth Golden Age, the Energy Controllers were built as a means to preserve and regulate the remaining energy.[2][3] The Main Energy Controller was built in the Great Temple of the Temple Grounds, and three sub-controllers were built in the temples in Agon Wastes, Torvus Bog, and Sanctuary Fortress.[4] The energy allocated to each region is somehow bound to the land to which it belongs, and cannot leave that area or its dark counterpart.[5] The Light of Aether is used to power the Luminoth Energy Control System, which includes a planet-wide weather-grid and a Light-Based Teleportation System.[3]
When a stellar object impacted Aether and sent the planet into a state of Transdimensional Flux, the planetary energy was divided between Aether and its dark twin.[6] In an attempt to recover this energy and end a war in which they were outnumbered, the Luminoth constructed a device capable of harvesting the Light of Aether from the dark Energy Controllers called the Energy Transfer Module.[7] After an unsuccessful siege on the Ing's Sky Temple,[8][9] the Energy Transfer Module capable of harvesting this precious planetary energy was stolen by the Ing and used against the Luminoth to annex their Light of Aether, pushing the planet to the verge of collapse.[10][11] The Energy Transfer Module becomes fused with Samus's suit and with it she is able to recover the stolen energy.[12]
Cultural Significance
Because the Light of Aether is the means by which the planet is preserved and the Luminoth way of life is maintained, this planetary energy is, unsurprisingly, at the core of Luminoth culture. It is credited in Luminoth Lore with bringing peace and prosperity to the Luminoth.[4] Furthermore, Luminoth parting expressions of goodwill typically wish upon the recipient the aid of the inanimate Light of Aether;[13][14][15] this veneration of inanimate natural forces may be an indication of a belief system that revolves around the Light of Aether.
Gallery
Samus approaching the final Light of Aether in the Sky Temple
References