Nintendo Switch
From Metroid Wiki
Jump to navigation
Jump to search
The Nintendo Switch is one of the consoles of the moment and Nintendo's main console for now, it was released worldwide on March 3, 2017 and was known in October 2016,
This console is portable and desktop at the same time and has 2 controllers when you buy it, before it was launched it was going to be called Nintendo NX but due to a piracy attack that Nintendo suffered they changed the name of the console,
unfortunately Metroid Prime 4 was already done but it was reset from 0% for unknown reasons and so far Metroid Dread is the only Metroid game for this console except for the Prime Trilogy if it is in this console but in Super Smash Bros. Ultimate, Samus appears as a playable character even in her Zero Suit,
and Dark Samus and Ridley were added as playable characters.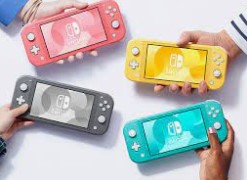 The Nintendo Switch Lite is a version that costs less than the standard Switch, only this is smaller and it is not for desktop this is 100% portable, this console is only for one player since it is a console type screen control That is, this console has buttons that are attached to the console and cannot be removed, it has a more variety of colors and more comfortable than the normal one since the size of the console is perfect and it does not matter what size of hands the user is ,
Again here are all the games of the normal switch but some cannot be played on the console directly since they require separate controls, at the same time switch lite cannot be played on the TV due to the hardware of this but normal console casual games like Super smash bros. Ultimate are available and can be played without any problem,
but games like super mario party, and ringfit adventure cannot be played directly from the console since they require that the controls are not glued to the console, The only way to play with more people if you have switch lite is with the online mode so you must have a stable network.