O-Lir
From Metroid Wiki
Jump to navigation
Jump to search
O-Lir was the last Sentinel of the Sanctuary Fortress Temple on Aether.[1] Samus encounters the message left by O-Lir via Luminoth Holoprojector in the Sanctuary Energy Controller chamber. The message reveals that it was O-Lir who constructed the many mechanoids patrolling the fortress to fight the Ing, whose Hive was the dark representation of the Sanctuary.[2] Slowly, the Ing possessed them and turned them against their Luminoth creator, using them as guards in their heavily protected Hive.[3] The hologram programs Samus's Translator Module to read Cobalt holograms.[4] O-Lir died filled with regret for the corrupted inventions and with fallen honor; the Sentinel ends the message with the usual Luminoth expression of goodwill.[5]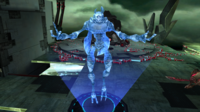 In subsequent messages, O-Lir makes reference, directly or indirectly, to the Spider Ball,[6] Power Bombs,[7] the Echo Visor,[8] and the Annihilator Beam.[9] O-Lir's hologram is last seen appearing spontaneously to bow in thanks to Samus after she returns the Light of Aether to the Sanctuary Energy Controller.
A corpse presumed to be O-Lir's is discovered in the Sanctuary Energy Controller by Samus. Information collected from it indicates that O-Lir died some 1.1 decacycles prior to her arrival and was damaged by Luminoth weaponry, presumably rogue mechanoids that could overtake the warrior where the Ing could not.[10]
Gallery
References