Phazon Ore
From Metroid Wiki
Jump to navigation
Jump to search
Phazon Ore
Thardus, a sentient stone creation composed entirely of Phazon Ore
| | |
| --- | --- |
| Game(s) | |
| Located in | Corrupted planets |
| Weaknesses | |

Phazon Ore is a rock extracted through mining that binds through Phazon energy.[1] It's extremely durable and blast-resistant, leading Space Pirates on Tallon IV to use it in various experiments, most notably Project Titan.[2] The Space Pirates' Thardus venture was composed completely of Phazon Ore.[3] Although formidable, weakness in its casing could be detected through Thermal Imaging, prompting the Pirates to conduct Thermal Imaging experiments in Glacier One of Phendrana Drifts.[4][5]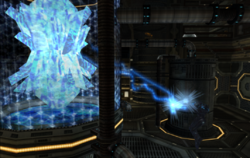 After Planet Aether entered a state of Transdimensional Flux, the dark twin created by the phenomenon contained high concentrations of Phazon Ore.[6]
Presumably, all planets impacted by Leviathans contain various types of Phazon, including Phazon Ore.
Space Pirates, under the instruction of Dark Samus, began mining Phazon Ore from their own Pirate Homeworld. There are many mining drills found throughout the Pirates' base. Samus uses one of these drills to mine through Phazon Ore and create a Half Pipe structure.