Seeker Missile
From Metroid Wiki
Jump to navigation
Jump to search
A Seeker Missile, referred to as the Seeker Launcher in Metroid Prime 2: Echoes, is a Missile upgrade that allows up to five Missiles to be shot simultaneously.
Properties
Seeker Missiles, as the name implies, are able to Lock On and follow most targets. Some targets, however, are able to evade Seeker Missiles, such as Pirate Commandos. The Seeker Missiles debuted in Metroid Prime 2: Echoes and found their way into Metroid Prime 3: Corruption. In Metroid Prime Pinball, Samus can shoot five Missiles at once. In some cases, Samus can lock on all five Missiles to the same target. Seeker Missiles are vital to bypass certain obstacles in the Metroid Prime series, mainly Multi-Lock Blast Shields.
Seeker Missiles also appear in Metroid: Other M, although it fires a Super Missile in place of one of the missiles, therefore requiring a full charge to be used. In this game, the extra missiles will automatically acquire their targets.
Acquisition
Metroid Prime 2: Echoes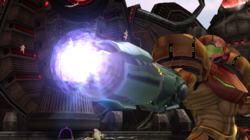 In Echoes, the Seeker Launcher was among the weapons once wielded by the Champion of Aether.[1] It rests inside a containment vault in the Hall of Honored Dead that can only be opened by completing a large Spinner puzzle, in which Samus must align several rotating sections of the floor in the correct order. This launcher can fire up to five missiles at once at a single or multiple targets.
Once acquired, the Seeker Missile can be used to open Multi-Lock Blast Shields, and defeat enemies with regenerative weak points, such as Mekenobites and the adult form of Chykka.
Data
Manual
On Screen Data
Gallery
References