Shinesparkers
From Metroid Wiki
Jump to navigation
Jump to search
Shinesparkers, abbreviated SS, is a website committed to bringing the latest Metroid news to the Metroid fan community. It was launched August of 2010. Since then, it has affiliated with many Metroid websites such as Metroid Headquarters, Metroid Recon, and Metroid Database and has been expanding in viewers. The website is owned by a user known simply as Darren and is manned by himself and two others, Ben and Wavehack. Darren does most of the websites writing, Ben is the sites graphics designer, while Wavehack handles hosting and technical support.[2] Ben, however, resigned his position July 1st, 2011.
The original Shinesparkers dates back to February 2009. Here, four members (two of which continue to the current Shinesparkers) held a podcast to discuss Metroid and entertain the public with the franchise's knowledge. Due to many issues, however, the project was put on hold. It was later revived and revitalized as a completely new project, today's website Shinesparkers.[1]
Features
Shinesparkers' main feature is bringing, like most other fan sites, latest news related to their subject, Metroid. Along with their news releases, Shinesparkers allows feedback through a comments system. They additionally host forums open to the public.
Additionally, Shinesparkers manages to obtain interviews from various people working with Metroid projects. These people range from games' voice actors, including even Jessica Martin, to Metroid fan sites' webmasters. These exclusives are then written into articles and other sections in their Articles and main Features section.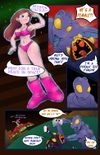 Shinesparkers also releases a comic named "The Justin Bailey Adventures." Its name comes from the famous password entered in Metroid which removed Samus's suit. The comic stars a Space Pirate named Justin and his ally, a female Geemer named Bailey.
References