Tallon Metroid
From Metroid Wiki
Tallon Metroids are a variation of Metroid that developed on Tallon IV. There are multiple differences between these and regular Metroids, which stem from developing on different planets. Unused design notes indicate that this environmental versatility is due to a Metroid's ability to adapt to survive in differing atmospheric and gravitational conditions, and varying gamma radiation levels.[1] These Metroids were introducted to these new environments by Space Pirates who were studying them for various purposes.
Tallon Metroids are the main type of Metroid encountered in Metroid Prime and Metroid Prime 2: Echoes. Tallon Metroid specimens are also mentioned in Metroid Prime 3: Corruption, though these are not actually interacted with in an non-mutated state at any point in the game.
History
Relocation and Study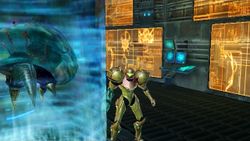 Metroids were first brought to Tallon IV from Zebes by Space Pirates.[2] Their research frigates transported these Metroids to their Research Headquarters in Phendrana Drifts where studies began on their ability to harvest bio-energy.[3] Developing in the unique environment of Tallon IV created the Tallon Metroid strain used in Space Pirate experimentation.[4] Preliminary interests in Metroids included potential domestication for use as weapons or power sources.[5] Their aversion to sub-zero temperatures was utilized by the Pirates in their studies, who often used cold containment below 10° centigrade and ice containment gear to render the test subjects docile.[6][7][8]
Discovery of the mutagenic substance Phazon on Tallon IV prompted a series of Phazon infusion experiments in organic and inanimate objects, including Tallon Metroids.[2] Phazon mutations resulted in heightened immunity to cold dampening fields,[9] mass increase,[10] heightened aggression,[11] mandible mutations,[12] and massive energy absorption capacity influx.[13] There were also negative backlashes such as internal organ degeneration,[14] and viral contaminations of Phazon batches led to termination of several test subjects.[15]
The Space Pirates developed Synthetic Metroid Rations to sustain Metroid test subjects, but Metroids were unresponsive and required bio-energy sources for nourishment.[16]
Aetherian Studies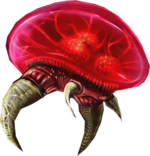 Tallon Metroids were later transported to the planet Aether and studied there. The epidermis of Tallon Metroids raised on Aether had a red pigmentation, but they were otherwise identical. In addition to using them for bio-energy production, the Space Pirates made several attempts to domesticate Metroids. These attempts ultimately failed, and led to the termination of several untamed subjects and handlers.[17][18]
Because a lack of Phazon forced the Pirates to rely on Metroids for power, High Command authorized a mass breeding program for Metroids,[19][20] and the Pirates designed organic cocoons to be used in transporting Infant Tallon Metroids. Containment and handling of Metroids on Aether became increasingly abusive: subjects were harvested of their bio-energy to the point of cellular degeneration,[21] confined in containment fields that prevented them from entering sleep cycles,[22] and heavily injured as a result of escape attempts and use for target practice.[23][24][25]
Metroid Handling Protocols dictated that Metroids were not to be used for target practice or domesticated as pets.[26] The desire of Space Pirates to use Metroids for personal companionship may have stemmed from their inability to keep usual domestic animals, such as Gronkats and Olbaps, due to their susceptibility to Phazon madness.[27] Some Pirates apparently became attached to Metroid specimens in spite of protocols and even fed them pet treats, though these caused food poisoning.[28]
Dark Samus was suspected of stealing several Tallon Metroids from Space Pirate facilities.[29][30]
Pirate Homeworld
There is also evidence that Tallon Metroids were studied on the Pirate Homeworld.[31] A Phazon enhanced variant of the Tallon Metroid strain, called Phazon Metroids, are encountered on the Homeworld and other planets during the events of Corruption.
Pirates and Dark Samus seems to have used these Phazon Metroids to attack the G.F.S. Valhalla and steal Aurora Unit 313 on board. Phazon Metroids remain there through the end of the events in Metroid Prime 3: Corruption. Assuming that they remain there without being bothered, they would eventually die of starvation after draining life forms on the ship.
Biology
Differences from Metroids
Differences in Metroid strains appear as a result of development in different planetary conditions.[4]
Tallon Metroids are smaller than regular Metroids, and significantly weaker. While a Metroid takes five Missiles while frozen to kill, a Tallon Metroid only takes one. Tallon Metroids can also be destroyed by physical stress from gorging on bio-energy and by conventional weaponry. Tallon Metroids, like regular Metroids, can also be shaken off of Samus by a Morph Ball Bomb detonation. Although Tallon Metroids are weaker in their mature states, the variants created by Phazon mutation are stronger than a regular Metroid.
The Tallon Metroids that were taken by Space Pirates to Aether are red in color, but are otherwise identical to Tallon IV-raised Tallon Metroids.
While regular Metroids hatch from eggs laid by a Queen Metroid, Tallon Metroids appear to reproduce another way. The Space Pirates on Aether, who did not appear to possess a Queen Metroid, conducted a mass breeding program,[20] and the subsequent Infant Tallon Metroids were stored in artificial organic cocoons. The Tallon Metroid reproductive process is not divulged in Prime or Echoes. It is possible that Tallon Metroids were reproduced by some unnatural means by Space Pirates.
Morphology and Physiology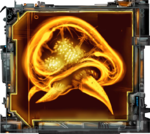 A Tallon Metroid consumes raw bio-energy from its victim using twin mandibles that are connected by means of energy conduits to the core of its quadripartite nucleus.[32] This nucleus replaces the need for any other internal organs, so Tallon Metroids lack discernible sensory organs or cardiovascular system.[33] The apparent lack of a brain in Metroid physiology may imply that it is equipped with a decentralized nervous system; evidence implies that the quadripartite nucleus replaces the brain function, as Space Pirate data would suggest.[34] The nucleus is contained by a transparent epidermis to which the large mandibles are attached. Apparently, Metroids have the ability to ingest solid food and possess a digestive system, though these appear superfluous.[16][28]
Absorbing energy causes a notable increase in size and mass.[35] The physical stress caused by gorging can be lethal, however.
Life-Cycle
Infant Tallon Metroid
Tallon Metroids begin their life-cycle in this infant stage. They lack mandibles or the ability to absorb bio-energy from prey in this developmental form, but will still ram enemies if threatened. They mature at once if exposed to Phazon radiation.
Tallon Metroid
The mature Tallon Metroid stage is the preferred maturation level for Phazon-infusion experiments by Space Pirates. The protruding tentacles of the infant stage have hardened into mandibles and all energy-siphoning processes are functional.
Hunter Metroid
Hunter Metroids are a highly aggressive, efficient form of Tallon Metroid that possess an energy-draining tentacle for use in long-range battle. Despite its apparent superiority to prior stages, a Hunter Metroid is still vulnerable to sub-zero temperatures.
Variants
Fission Metroid
Fission Metroids are no longer vulnerable to cold attacks. These are mutants that are capable of splitting into two that are vulnerable to only a specific type of beam. Their name stems from their biological ability to divide.
Dark Tallon Metroid
These are Tallon Metroids possessed by the Ing. They are vulnerable to the Light Beam due to their Darkling nature. They can still be frozen by the Dark Beam, but it does not cause damage in itself.
Phazon Metroid
Phazon Metroids are still vulnerable to cold, but are capable of shooting energy bursts and are able to "phase" through objects or shots.
Data
Logbook
Design Notes
The following design notes were written by the environment artist Matt Manchester to correspond with features put into the Metroid Processing chamber in Metroid Prime 3: Corruption. Several of these reference Tallon Metroids or the phenomena surrounding the development of new strains of Metroids raised on different planets.
Gallery
Images
Audio
References