Thermal Visor
From Metroid Wiki
The Thermal Visor is the second Visor upgrade in Metroid Prime found in the Space Pirate research lab in Phendrana Drifts. It detects heat signatures given off by enemies and other objects. The Thermal Visor does not have the radar present in the Combat Visor.[1]
Properties
Creation
The Thermal Visor was created as part of an Imaging research project being conducted by Space Pirates.[2] Their experimentation with Phazon revealed that Phazon Ore was bound together by Phazon Energy, and that the highest concentrations of radioactivity could be detected using Thermal Imaging.[3] It was also determined that weaknesses in the casing of Phazon ore could be detected via Thermal Imaging, which could potentially undermine many of their Phazon experiments, such as Project Titan and their most successful venture in that project, Thardus.[4]
Uses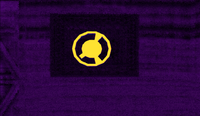 The Thermal Visor is especially useful in targeting enemies that utilize stealth tactics, or that cannot normally be targeted with the Combat Visor.
Some enemies, such as the Shriekbat, cannot be detected with the Combat Visor until they are prepared to attack; with the Thermal Visor, Samus, can lock on to them at any time by tracking their heat signature.[5] The Thermal Visor can also be used to target Shadow Pirates, who use sophisticated cloaking technology in their stealth operations;[6] additionally, the creature Metroid Prime is capable of rendering itself invisible to certain spectra, but occasionally the Thermal Visor can still be used to target it.
Other uses include the ability to reveal vulnerabilities in Phazon ore, such as while battling Thardus, or the heat signatures given off by various technologies including the Elite Pirate's plasma cannons.[7][8] Samus can also use the Thermal Visor to detect the heat signatures given off by dormant Power Conduits, and use the Wave Beam to recharge these conduits.[9]
While useful in cool areas where heat signatures are readily apparent, such as Phendrana Drifts, the Thermal Visor can be overloaded by radiation or rendered effectively useless in superheated areas, such as Magmoor Caverns.
Data
Manual
Samus's Notes
The Thermal Visor will show the weak points of certain foes.​ ​​Use the Thermal Visor to see in total darkness and poor weather conditions.​ ​Brightly lit areas,​ explosions,​ and intense heat can impair the Thermal Visor.​ ​​Enemies with temperatures close to their surroundings will be tough to spot with this Visor.​[11] ​
Gallery
References