Wallfire
From Metroid Wiki
Jump to navigation
Jump to search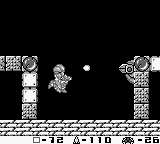 Wallfires are mechanical enemies Samus encounters on SR388 during her mission to eliminate the Metroids on the planet. These sentries are very likely of Chozo origin, even resembling the Chozo themselves by their bird-like structure. They are very fragile and are generally found in rooms consisting of multiple Wallfires.
Wallfires will deal damage by shooting fireballs or by contact. The fireballs will stop upon hitting a hard surface but will not stop if they hit Samus. Unlike Autracks' laser beams, Wallfires' fireballs can not be frozen or destroyed. Unlike most enemies, Wallfires cannot be frozen, possibly due to their high-temperature nature. Instead, upon their defeat, they collapse and leave behind rubble. Leaving behind a "corpse" is a unique trait among Metroid II enemies. Samus can stand on the remains of destroyed Wallfires.
Data
Manual
Sprite
Trivia
Though Wallfires are described as proximity detecting,[1] they will attack regardless of whether Samus is near or far.
References