Wavebuster
From Metroid Wiki
Jump to navigation
Jump to search
The Wavebuster is the Charge Combo of the Wave Beam. It is found in the Tower of Light and is exclusive to the original Metroid Prime. It is activated by fully charging the Wave Beam and firing a Missile. The Wavebuster uses ten Missiles upon activation, and five Missiles for every second of use thereafter. The Wavebuster generates a stream of electricity that will automatically lock on to a target, causing continuous damage. If the target is neutralized or moves out of range, the Wavebuster will lock onto a new target automatically.
Acquisition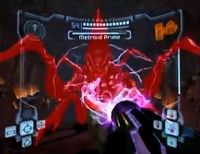 The Wavebuster rests at the top of the Tower of Light. To reach the top, Samus must destroy several cracked sections of pillar using Missiles. On easy mode, each cracked block will need to be shot with three Missiles before they are destroyed; in hard mode, each block requires six Missiles (or one Super Missile). The blocks are protected by indestructible Oculus which will absorb inaccurately fired Missiles.
When sections of all four pillars on any particular level have been destroyed, the pillars drop a level, giving Samus access to another series of platforms. Plated Puffers are released when the pillars drop, but can easily be avoided if Samus quickly proceeds to the next level. The Wavebuster becomes accessible after all the blocks are destroyed.
Data
Screen Data
Trivia
The Wavebuster can be used to destroy the Cloaked Drone with little effort due to its homing properties; they work whether Samus is locked on to the enemy or not.
References
↑ "Wavebuster acquired!
This powerful attack uses Missiles while active! Using the

Wave Beam

, press and hold to charge, then press to fire. Hold for continuous fire." —Screen data (Metroid Prime)