Wii U
From Metroid Wiki
Jump to navigation
Jump to search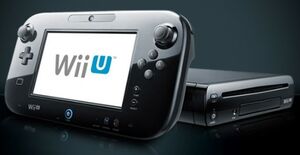 The Wii U is the successor to the Wii and the predecessor to the Switch, The Wii U was released in 2012 and was seen for the first time on June 7, 2011 and has earned the title of (The Most Successful Failure in History) due to its sales that were not so bad 13.560 million (o 13.560.000) to be exact , his best-selling game was Mario Kart 8, the Wii U had 3 games of the metroid series, The Wii U had its highest sales in late 2012 and all of 2013, Its most incredible capacity is its graphic quality and miiverse (type of social network to talk to other Wii U users)
had the buttons: X, Y, B, A, the crosshead, 2 directional sticks the extra buttons: ZR, ZL, R, L, It also had a HOME button, the buttons + (Start) - (Select) Wii U accessory more buy was its pro controller, since it was very precise and comfortable, it was bought by several PC players and players from other consoles,
The Wii U had a camera, microphone, NFC amiibo reader, coffee machine (Not literal) 8 GB (White Wii U) 32 GB (Black Wii U) improved controls, a 2-player console, touch screen, gyroscope, compatibility with other controls, etc, The Wii U became a collector's item highly appreciated by console collectors, if you have a used Wii U but in good condition it could be worth about 90 Dollars or 120 Dollars, But if you get to have one in perfect condition and it is unused, you could sell it for about 200 Dollars or 300 Dollars.
The Wii lasted 4 years selling very well and then it fell into oblivion leaving a great impact on Nintendo, so the teams of Nintendo Co Ltd. wanted to reuse the great success that Wii had creating the Wii U that would be the Pro version of the Wii, and so was born the Wii U that pretended to be the new star console of nintendo at that time replacing the Wii catalog to Wii U, The Wii U was seen for the first time at Nintendo of America's E3 2011, betting heavily with New Super Mario Bros U and Mario Kart 8, both of which were extremely high-quality games, but with the Wii U catalog (Wii Party U Etc.) they were almost the same as the Wii catalog and that was one of the main reasons for the failure of Wii U and when the inevitable happened and the console was discontinued nintendo suffered almost the same blow than the Wii but thanks to the failure of Wii U nintendo learned from its failures and that is why when the Switch came out it became a resounding success for nintendo.
Nintendo did not want to lose money with the games that were released for the Wii U so they came up with the great idea of ​​transferring the games from Wii U to the Nintendo Switch and some called them with the nickname Deluxe and there those games they gained a lot of popularity,
The Wii U had the Metroid Prime: Trilogy, Metroid Prime Metroid Prime 2: Echoes & Metroid Prime 3: Corruption in HD So the trilogy there is called `` Metroid Prime Trilogy HD making the Wii U the second nintendo console with more metroid games being tied by the Switch and surpassed by the Wii.