Game Boy
From Metroid Wiki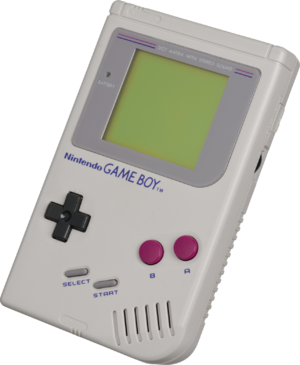 A Game Boy is a Nintendo-produced handheld console. This rectangular shaped handheld was the first of the Game Boy line. This 8-bit quality came early in video game productions, being released in Japan April 21, 1989 and July 31 that same year in North America. The Game Boy was a very low-detail, monochromatic game console, with only four shades of gray. Despite its limited visual capabilities, it was revolutionary for its time, managing to sell 118.69 million units worldwide (including the Game Boy Color).[1]
Metroid II: Return of Samus'
The only Metroid game released for the Game Boy was the second installment of the series, Metroid II: Return of Samus.
References
↑ "Game Boy and Game Boy Color's combined lifetime sales reached 118.7 million worldwide, according to Nintendo's latest annual report." Business Week - Game Boy,