Metroid Database
From Metroid Wiki
Jump to navigation
Jump to search
The Metroid Database (abbreviated MDb) is a Metroid fan site dedicated to the franchise's current news and oldest history. Metroid Database is among the largest and quite possibly the oldest Metroid fan sites, appearing two years following Super Metroid's release. The site contains in-depth information on the series and non-game features concerning Metroid. MDb is affiliated with various other Metroid-based websites, including Metroid Recon, Metroid 2002, Metroid Headquarters, Wikitroid, Shinesparkers, Metroid Metal, and various other single-project Metroid sites.
History
MDb was founded October 16, 1996 by TJ Rappel after six months of Metroid research. For the first five years of MDb, TJ alone manned and handled the website; it wasn't until the 2002 Metroid revival that TJ sought help from new staff. 2002 also marked the renewal for MDb.[1]
The earliest years of the site generally focused around the rumored game that never came about, Metroid 64. Metroid 64 was a Metroid game to be released for the Nintendo 64, however it was never produced though it was highly wanted by American fans. TJ generally released as many news pieces regarding the rumored game until its lack of existence was revealed.
Initially, because of the Metroid drought from Super Metroid to Metroid Fusion and Prime, MDb focused simply on news segments. As Metroid Prime was slowly revealed, MDb became much more active and began getting heavier with information. As true for other parts of the Metroid fandom, the 2002 revival gave MDb momentum and a drive to grow in community size and in functions and features. The site's focus had finally turned to reviewing current games rather than awaiting games that may or may not even come. MDb had become more of a fan site than a simple news site.
As the website reached a decennial anniversary, its "webmonster" TJ had grown out of the Metroid series. TJ began seeing updating MDb as a job rather than a hobby and chose to instead leave it in the hands of the community's trusted administration team, Team MDb.[2] TJ remained around the site, but took a much less active role.
Around the time the third Prime game had been released, MDb grew rapidly and extremely more active. Updates became more and more frequent and the site was able to grab interviews and features such as translated works not easily obtainable.
Team MDb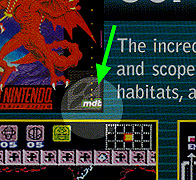 Trivia
Nintendo's official Metroid Fusion Players Guide used an image originating from Metroid Database. Likely, the editors of the Players Guide did not notice MDb's watermark placed on the corner of the image.
Though difficult to confirm, the Metroid Database is likely the oldest Metroid site on the web. It was even created two years before Metroid.com was registered as a website outside Nintendo's domain.
Galllery
References