Project Titan
From Metroid Wiki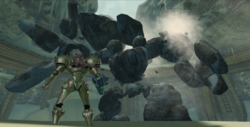 Project Titan was a Space Pirate experiment conducted in the Glacier One research outpost in Phendrana Drifts.[1] The aim of the experiment was to mutate inanimate objects to the point of sentience by exposing them to Phazon radiation.[2][3]
The Space Pirates' most successful venture, Thardus, was a sentient creature composed of Phazon Ore,[4] originally intended to patrol the Phazon Mines.[5] When it proved too powerful to tame, the Space Pirates immobilized it in the Quarantine Cave pending relocation to another area,[1] but eventually massive casualties moved them to abandon Project Titan altogether.[6]
Interestingly, it was studies of Phazon Ore in relation to Project Titan that moved the Space Pirates to experiment with Thermal Imaging.[7]
See Also
References