Project Helix
From Metroid Wiki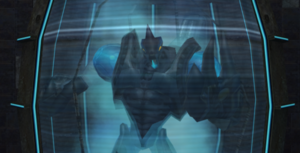 Project Helix is a Space Pirate program that involves infusing Space Pirate DNA with Phazon.[1]
History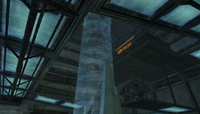 The first attempts made in Phendrana's Glacier One outpost were failures; most died before maturing. Those that survived became violent, destroying everything in sight. Eventually the project was moved to the Phazon Mines. After much experimentation with different strains of Phazon, Research Team Sclera finally managed to successfully combine a strain called Vertigo with Space Pirate DNA.[2]
The Space Pirates termed their experiments Elite Pirates: larger, stronger, and more resilient than average Pirates. The Space Pirates would train them by allowing them to kill those maddened from Phazon exposure.[3] Given their high success rates in simulations against Samus Aran,[4] their ability to wield and use a variety of weapons, and their incredible resilience, they were considered for mass production for use in the Space Pirate military alongside Flying Pirates and Troopers.[5] Experiments were fed Elite Ration Mix made with Deca-Triticale, and later with Phazon-infused Saturnines.
Equipment
The subjects of Project Helix wield a variety of powerful offensive and defensive equipment.
Wave Quake Generators: These are used to generate a massive wave of energy and are the primary weapon used by Elite Pirates.
Chameleon Manta: Used for cloaking purposes but requires massive amounts of power, leaving its user vulnerable.[7] The only known subject wielding it is Elite Pirate Upsilon.
Creations of Project Helix
Elite Pirates
Main article: Elite Pirate
Elite Pirates are the most encountered creation of Project Helix. Samus battles three in the Phazon Mines. The heat signature given off by their Plasma Cannons is a weakness Samus may exploit.
Phazon Elite
Main article: Phazon Elite
Samus Aran encounters only one Phazon Elite; she must defeat it in order to claim the Artifact of Warrior. It does not carry a Plasma Cannon. It has a low life span, but this is of little concern to the Pirates.[8]
Elite Pirate Upsilon
Main article: Omega Pirate
Known as the Omega Pirate, this is the most powerful of the Elite Pirate forces and the pinnacle of Project Helix.[7] Simulations gave it low life expectancy and due to the massive amounts of Phazon used in its creation, it is not very cost effective for mass production.[9]
Gallery
References