Navigation menu
Galactic Federation 07th Platoon
From Metroid Wiki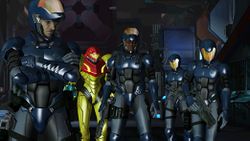 This article is a stub. You can help Metroid Wiki by expanding it.
Metroid Wiki is in need of filling in various stubs!
The Galactic Federation 07th Platoon is a squad of Federation troopers under the command of General Adam Malkovich appearing in Metroid: Other M. This group consists of six members: Adam Malkovich, Anthony Higgs, Lyle Smithsonian, Maurice Favreau, James Pierce, and K.G. Misawa. Samus encounters these troopers shortly after landing on the Bottle Ship. When met, Higgs assures both the troopers and Samus that there is no danger.