Spider Ball Track
From Metroid Wiki
Jump to navigation
Jump to search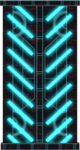 This article is a stub. You can help Metroid Wiki by expanding it.
Metroid Wiki is in need of filling in various stubs!
Spider Ball Tracks are magnetically charged tracks used in the Metroid Prime series to scale walls using the Spider Ball. Using these, Samus can reach areas she otherwise could not. They appear to have been created by the Chozo alongside the Spider Ball. The technology seems to have been shared with the Luminoth, Bryyonians, and the Galactic Federation and stolen by the Space Pirates. They appear throughout Tallon's surface, Aether and Dark Aether, Bryyo, SkyTown, and even Pirate Homeworld.
In Metroid Prime, the only way Samus could reach another track was by using Bombs or disengaging the Spider Ball to fall to the next series of tracks. While in Metroid Prime 2 and Metroid Prime 3, the Boost Ball can propel to another set of tracks.
Spider Ball Tracks usually appear to be made of an unknown metal with glowing lines along it. This metal is magnetic. However, in Metroid Prime 2: Echoes, some Spider Ball Tracks in the Sanctuary Fortress appear as blue tracks with slanted lines. The equivalent tracks in the Ing Hive are red in appearance. The composition of these types of tracks are unknown.
Logbook
Gallery
References
↑ "Magnetic rail system track.
In Morph Ball mode, press and hold R when close to this type of surface. Use [Control Stick] to move the Ball along the track. Release R to disengage from the surface. CAUTION: A Morph Ball Bomb will briefly disengage the Ball from the track." —Logbook (Metroid Prime)
↑ "In Morph Ball mode, press and hold R when close to this type of surface. Use [Control Stick] to move the Ball along the track. Release R to disengage from the surface. Using the Boost ability when on a Spider Ball Track will rapidly launch the Spider Ball from the track. Detonating a Morph Ball Bomb will briefly disengage the Ball from the track" —Logbook (Metroid Prime 2: Echoes)
↑ "While in Morph Ball mode, press and hold Z when close to a magnetic rail. Use [Control Stick] to move the Ball along the track. Release Z to disengage from the track. Using a Bomb will briefly disengage the Morph Ball from the track." —Logbook (Metroid Prime 3: Corruption)