Sylux
From Metroid Wiki
Sylux is a blue-suited Bounty Hunter from the Metroid Prime series. Its gender is unknown. It is skilled at stealth and tracking, as well as a formidable marksman. Not much is known about Sylux, as it has only appeared twice: once in Metroid Prime Hunters and a brief possible appearance in Metroid Prime 3: Corruption. What is apparent is that it has an unexplained hatred for Samus Aran and the Galactic Federation.
Equipment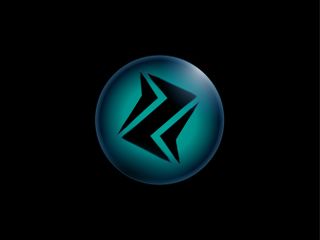 Shock Coil
Main article: Shock Coil
Sylux is fitted with the Shock Coil weapon, which shoots a small, continuous beam of blue electricity. If this connects with the opponent, it slowly begins to drain the opponent's health, and as the beam is connected, the rate of the drainage will increase. If Sylux is the one using this weapon (which is not always the case since it is obtainable in the story and multiplayer mode) the drained health returns to Sylux, adding to its own.
Lockjaw
Main article: Lockjaw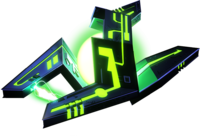 Sylux's alternate form is known as the "Lockjaw." It is similar to, but faster than, the morph ball. The Lock Jaw can leave a maximum of three bombs behind it. However, these bombs will not detonate unless touched by an opponent. Instead, if the bombs are close together, a trip wire will connect the first two and will link all three, and home in on an opponent.
Appearances
Metroid Prime Hunters
Sylux first appears in Metroid Prime Hunters in a cinematic scene in the introduction which shows it attacking a Federation Ship on a snowy planet, presumably its own world. Once the Alimbic Cluster sends out its cryptic message, Sylux follows Samus with a goal of attaining the power for its own. Samus first meets Sylux on the Vesper Defense Outpost.
Its ship, the Delano 7 is an opposition to Samus's gunship. Samus encounters this vehicle twice: once when it flies overhead on Alinos and again when it assists Sylux in battle against her.
Metroid Prime 3: Corruption
Sylux's ship or a ship of similar design is seen in following Samus in the secret ending obtained with a 100% completion of the game.
Data
Logbook
Manual
Official Site
Little is known about the mysterious bounty hunter known as Sylux, other than the fact that Sylux harbors an intense hatred for the Galactic Federation and the bounty hunter who has helped the Federation time and time again -- Samus Aran.[5]
Trophy
Gallery
References