Psychosis
From Metroid Wiki
Jump to navigation
Jump to search
Psychosis refers to a variety of unstable mental conditions characterized by abnormal behavior. These conditions can be caused by internal physiologic illness, external poisons, and psychologically traumatic experiences. There have been several documented incidents of psychosis in the Metroid series, most notably those caused by prolonged Phazon exposure.
Causes
Phazon Exposure
Early symptoms of Phazon Corruption, sometimes called Phazon Madness or Phazon Fever, include bouts of aggression, delusional behavior, and dementia. Space Pirate personnel who developed such symptoms on Tallon IV were often used as adversaries in the Elite Pirate program.[1] Phazon Fever continued to be a problem after the Pirates relocated to Aether, where a technician reportedly attempted to claim their Phazon for himself and held his workmates at gunpoint until security arrived.[2]
Initial experiments in the Project Helix program also produced psychosis in test subjects. Before Sclera's discovery of Vertigo Phazon, infusing Phazon into Space Pirate DNA degenerated brain tissue, and the few that survived infancy suffered severe psychotic breakdowns before they reached maturity.[3]
Psychological Trauma
Experiencing traumatic events can result in a variety of anxiety disorders and symptoms. For example, Private First Class G. Haley, a Trooper that served with the GFMC Task Force Herakles on board the G.F.S. Tyr, suffered from psychosis characterized by insomnia, excessive intrapersonal communication, and intense anxiety after repeated confrontations with the Ing.[4] Lack of personnel kept him on the front lines with his fellow marines, but his condition had degenerated by the time of his death to the point where he was incapable of articulating his morbid fears, as evidenced by his personal log.[5]
Post Traumatic Stress Disorder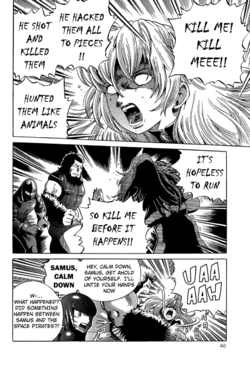 Samus Aran suffered from PTSD, or Post Traumatic Stress Disorder, following a holocaust she endured during her childhood on her homeworld, K-2L. During an attack by Space Pirates, led by Ridley, Samus saw her parents graphically murdered.
In the Metroid manga, Samus is depicted suffering from a panic attack when she first encounters Ridley, so many years after their initial encounter. She is plagued by shortness of breath and intense, disturbing flashbacks, and as a result is unable to control her Power Suit. Even after she is rescued from Ridley, the attack continues until the Chozo are able to calm her.
Gray Voice was the first to indicate that Samus's distress was caused by PTSD induced by encountering Ridley. Later, another Chozo confirms that it was traumatic memories of the disaster on K-2L welling up to her consciousness that caused her sudden episode, doing extensive damage while previously suppressed.[6][7]
During the events of Metroid: Other M, Samus again experiences paralyzing emotional duress when faced with a genetic clone of Ridley, whom she had previously destroyed, leaving her unable to control her Power Suit and exposed to attack. It was only thanks to the intervention of her friend Anthony Higgs that Samus was able to regain control of her suit and engage Ridley in combat.
Gallery
References
External Links
PTSD or Weakness - Real Experts On Why Samus Didn't Shoot