Vaccine "Metroid"
From Metroid Wiki
Vaccine "Metroid" is a cure administered by Galactic Federation scientists on Samus to remove the X Parasites inside of her body. It only appears on one occasion throughout the Metroid series, in Metroid Fusion's Galactic Federation HQ.
Infected by the X
In the beginning scenes of Metroid Fusion, Samus is assigned bodyguard duty, guarding a Biologic Space Labs research team by the Galactic Federation. Samus and the researchers explored life forms on the surface of SR388. Thinking they had found a regular Hornoad, Samus attempts to destroy the creature, to find that it mutates to a yellow X. The yellow X then attaches itself to Samus. Although there were no initial problems, once Samus drives her gunship back to a B.S.L ship, the X begins multiplying in her body.
A Cure Discovered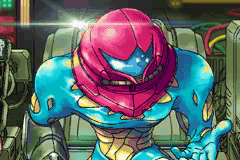 Samus becomes unable to operate her ship, and it slowly drifts toward an asteroid field. Her ships safety systems, however, eject Samus in an escape pod before the impact. The escape pod sends Samus to Galactic Federation Headquarters, where scientists examine her condition. Since Samus was unconscious, they could not remove the Power Suit in its entirety. They surgically removed all X-infected suit parts that they could without causing Samus damage. It wasn't enough, though, as some X had embedded themselves deeply in Samus's nervous system. Fortunately, one of the GF scientists discovered a cure to the X using a sample of the Metroid Hatchling's DNA. The serum, named Vaccine "Metroid", was immediately injected into Samus's body. The Metroid cells immediately began taking over the X inside of her. The serum transformed Samus's Power Suit, giving it Metroid properties. She was now vulnerable to cold-based weaponry or freezing environments, and she could absorb the X as power ups.
Samus's Revealed Thoughts
Fusion is unique amongst the Metroid games in that it reveals some of Samus's thoughts through text. These thoughts occur throughout the game, but become more scarce as the game progresses. Early in the game, these are some of her thoughts.
"I'd been assigned to watch over Biologic's research team, so I once again found myself on the surface of SR388."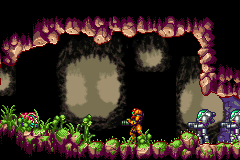 "It was there that I was attacked by a life-form I had never encountered before."
"It was only later that I learned the identity of my attacker: the parasitic organism we now know as X. Unaware of my condition, I was returning to the station when disaster struck."
"Once the X had infested my central nervous system, I lost consciousness and my ship drifted into an asteroid belt."
"The ship's emergency systems automatically ejected the escape pod before impact. Biologic's vessel recovered it and transported me to Galactic Federation HQ."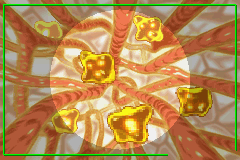 "However, during the journey, the X multiplied within me, corrupting large areas of my Power Suit."
"It then came to light that the organic components of my Power Suit had become so integrated with my system that it could not be removed while I was unconscious. Large portions of my suit had to be surgically removed, dramatically altering my physical appearance. However, the X in my central nervous system were too embedded to be removed safely. I was given a minimal chance of survival."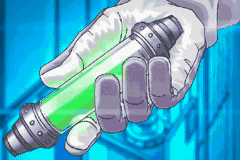 "Then, someone found a cure."
"They proposed using a Metroid cell to make an anti-X vaccine. It seems that the Federation had managed to preserve a cell culture from the last infant Metroid from SR388. The serum was prepared and injected without delay."
"The X parasites were immediately and completely destroyed."[1]
Trivia
Vaccine "Metroid" is not a vaccine at all, as vaccines are only effective before a disease or illness is contracted, while this one was used during Samus's severe illness.
Although the Galactic Federation scientists are believed to have made a breakthrough by using Vaccine "Metroid" to combat the X parasites, they are unaware that the Chozo initially created Metroids to combat the X.
See Also
References
↑ "It was there that I was attacked by a life-form I had never encountered before. It was only later that I learned the identity of my attacker: the parasitic organism we now know as X. Unaware of my condition, I was returning to the station when disaster struck. The ship's emergency systems automatically ejected the escape pod before impact. Biologic's vessel recovered it and transported me to Galactic Federation HQ. However, during the journey, the X multiplied within me, corrupting large areas of my Power Suit. It then came to light that the organic components of my Power Suit had become so integrated with my system that it could not be removed while I was unconscious. Large portions of my suit had to be surgically removed, dramatically altering my physical appearance. However, the X in my central nervous system were too embedded to be removed safely. I was given a minimal chance of survival. Then, someone found a cure. They proposed using a Metroid cell to make an anti-X vaccine. It seems that the Federation had managed to preserve a cell culture from the last infant Metroid from SR388. The serum was prepared and injected without delay. The X parasites were immediately and completely destroyed." —Samus Aran (Metroid Fusion)