A-Voq
From Metroid Wiki
A-Voq was the last Sentinel of the Torvus Temple on Aether.[1] Samus encounters the message left by A-Voq via Luminoth Holoprojector in the Torvus Energy Controller chamber of Torvus Bog. In the message, A-Voq explains that most of the temple has been "crippled by the ravages of war" and flooded, and that it is within these flooded areas that Samus will find the Dark Temple Keys.[2] What is more, the waters of Dark Aether are venomous and should be avoided if at all possible.[3] The hologram is also programmed to update Samus's Translator Module to decode Emerald holograms.[4] Ever of serious demeanor, A-Voq ends the message with one last warning and bids Samus farewell with a warrior's expression of goodwill.[5]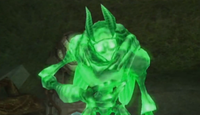 In subsequent messages, A-Voq makes reference, directly or indirectly, to the Dark Temple Keys of Torvus,[6] the Seeker Missile,[7] the Gravity Boost,[8] and the Dark Visor.[9] A-Voq's hologram is last seen appearing spontaneously to bow in thanks to Samus after she returns the Light of Aether to the Torvus Energy Controller.
A corpse presumed to be A-Voq's is discovered in the Torvus Energy Controller by Samus. Information collected from it indicates that A-Voq died some 1.2 decacycles prior to her arrival and that the Luminoth was able to resist numerous possession attempts by enemy Ing, which would require incredible stamina and psychic durability.[10]
References