U-Mos
From Metroid Wiki
U-Mos is the last living Sentinel of the Luminoth during the events of Metroid Prime 2: Echoes.[2] His mother, V-Mos, was also a Sentinel, but died giving birth to him.[1] After the Luminoth were defeated by the Ing in Agon Wastes, Torvus Bog, and Sanctuary Fortress, they fled to the Great Temple and placed themselves in stasis; U-Mos stayed awake to guard the Great Temple's Energy Controller and the sleeping Luminoth.[3]
The Arrival of Samus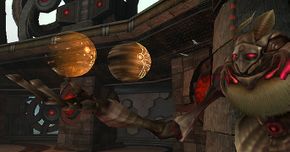 When Samus defeats the Alpha Splinter in the Great Temple on Aether and meets U-Mos for the first time, he beseeches her to listen as he explains the nature of his planet's peril.[4] He tells Samus that a cosmic object impacted the planet's surface and caused a rift in time and space, plunging Aether into Transdimensional Flux and resulting in a Dark Aether.[5] After explaining the war with the Ing for Aether's planetary energy,[6] he tells her that the technology called the Energy Transfer Module has bonded to her Power Suit and implores her to aid him in repelling the Ing forces.[7] When Samus agrees, U-Mos becomes her guide. He gives her basic instructions regarding acquiring planetary energy from the temples on Dark Aether, updates her map system with the location of a temple in Agon Wastes, and updates her Translator Module.[8][9]
After Samus is successful in returning the planetary energy from Agon, U-Mos directs her to Torvus,[10][11] and after she returns the Light of Aether to Torvus, he directs her to the final Luminoth stronghold in the Sanctuary Fortress.[12][13]
Once Samus returns the Light of Aether to all three Luminoth Temples on Aether, U-Mos asks Samus to find the nine Sky Temple Keys required to enter the final Ing stronghold and gives her a blessed suit of armor known as the Light Suit.[14][15]
U-Mos is last seen after Samus destroys the Emperor Ing with his fellow awakened Luminoth; he and the others bow in respect as they bid her farewell.
Logbook
Gallery
Trivia
U-Mos will sometimes summon a sphere of light in one hand, attracting a swarm of moths.
References