Wave Beam (Metroid Prime)
From Metroid Wiki
The Wave Beam is one of three beam weapons left behind on Tallon IV by the Chozo for use by Samus Aran. The weapon is the only weapon that Samus has ever used that fires electrical charges of energy, she makes use of this to activate otherwise disengaged machinery. The technology was mimicked by the Space Pirates and installed onto Wave Troopers' systems and obtained by Metroid Prime.
Properties
The Wave Beam configuration is unique in that it causes the Arm Cannon to fire three beams at once. The smaller beams are oscillate electrical pulses that will have limited homing abilities on any target Samus locks on to. A charged shot will briefly paralyze enemies that it hits.[1] The Wave Beam fires slower than the Plasma Beam and Power Beam, but faster than the Ice Beam. Each individual beam is weaker than even the Power Beam, however, it the three combined are stronger than the Power Beam. Without being locked on, any number of the three beams can hit Samus's target.
The electrical pulses can easily destroy machines,[2] and be used to energize Power Conduits.[3]
Obtaining the Wave Beam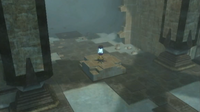 The Chozo left behind the Wave Beam to help Samus obtain all of the Artifacts and destroy the source of Phazon in the Impact Crater. It sits an a small, raised platform in the Chapel of the Elders. Samus's first attempt at reaching it is met with opposition from Baby Sheegoths. Defeating a few of these will reveal a much larger and more dangerous adult Sheegoth. Defeating the Sheegoth will reveal the Wave Beam.
Wave Beam technology is also one of Samus's weapons that have been reverse-engineered, wielded by the Wave Trooper variation of Trooper Pirates.[4] They use a weaker version of the Wave Beam and are only susceptible the Samus's Wave Beam.
Metroid Prime also managed to get a hold of the power of the Wave Beam. She is able to fire a large stream of Wave Beam energy that can disrupt Samus's visor. She can also fire large, slow moving blasts of Wave Beam energy. While using its Wave Beam attacks, it is only vulnerable to Samus's Wave Beam.
Wavebuster
Main article: Wavebuster
The Wavebuster is the Wave Beam's Charge Combo. It fires a sustained beam that can home in on any nearby target without the need to lock on at the cost of an incredible amount of Missile Ammo.
Data
Manuals
In Game Data
Metroid Prime
"Fire the Wave Beam to open Purple Doors. The Wave Beam won't home in on targets without a lock-on. Press and hold L to lock on. Charge the Wave Beam to fire a fierce electric blast. Enemies struck by this blast will be enveloped in electrical energy for a few moments."[1]
References