Metroid Prime (specimen)
From Metroid Wiki
Metroid Prime is a Phazon-mutated Metroid found in the Impact Crater on Tallon IV. It is a highly adaptable enemy, often changing its strategy in battle. It is armed with numerous weapons, including versions of Samus's beam weapons that can fire sustained blasts. It also has a Snare Beam, which is a green light that traps Samus and pulls her to itself.
Origin
When a Leviathan first impacted Tallon IV, it began to spread Phazon across the planet. For protection, it found a Metroid from an unknown source. Somehow, this Metroid absorbed the core and became it. This creature was prophesied by the Chozo as a Worm that will destroy the planet.[1] The Artifact Temple was built around the Impact Crater to imprison the Metroid Prime, but they knew the prison would not hold it forever.[2]
Original Space Pirate Data, which has since been retconned, tells of the Space Pirates capturing the Metroid Prime and observing it.[3] The Metroid Prime assimilated many of their weapons, and they let it go out of fear that they could not control it.[4] Newer entries simply say that they detect a massive energy source in the crater.[5]
Battle
Metroid Prime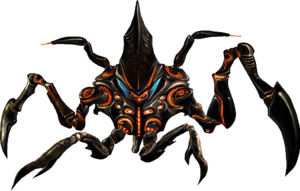 Samus battles it in several chambers within the Impact Crater, and Metroid Prime becomes increasingly aggressive and uses more attacks the more Samus damages it. Metroid Prime's weak point, its head, is vulnerable to the Beam and Charge Combo it is currently using, which changes in accordance with the color of the markings on its exoskeleton. For example, if Metroid Prime's coloration is primarily purple, it will be using and be affected by the Wave Beam (yellow for Power Beam, white for Ice Beam, and red for Plasma Beam). It will shift weapons in an attempt to avoid attacks.
Metroid Prime is invulnerable to the stun effects of all weapons and combos except for the Ice Spreader, which will briefly freeze it. Sometimes Metroid Prime will try to ram Samus, and she will need to use her Morph Ball to evade it. After Samus defeats Metroid Prime's exoskeleton, it falls down a long shaft. Samus follows it, and Metroid Prime's core essence attacks her.
Essence of Metroid Prime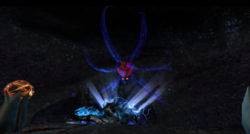 While in its core form, Metroid Prime attacks with large shock waves; it is also capable of becoming invisible to the normal light spectrum and spawning a variety of Metroids. None of Samus' normal weapons can damage Metroid Prime, but, by standing in pools of Phazon it generates, Samus can enter Hyper-Mode to power her Phazon Beam and use it to defeat Metroid Prime.
After Samus defeats Metroid Prime, it desperately reaches for her. Its grip is so strong on the Phazon in her Phazon Suit that it rips it from her. It manages to save itself by forming into this suit, becoming Dark Samus. The destruction of its previous form causes a massive explosion, which destroys the Impact Crater. The action of taking Samus's Phazon Suit inadvertently has freed Samus from corruption.
Metroid Prime Pinball
Metroid Prime also appears on the Impact Crater table in Metroid Prime Pinball. In this game, Metroid Prime is battled in both its exo and core forms. It will attack Samus with an energy blast while Metroids occasionally appear while in its exo form. When in its core form, Metroid Prime can fire energy blasts and homing projectiles.
Abilities
The Metroid Prime is able to utilize unique abilities. Like most Metroids, the Metroid Prime can absorb energy in almost any form. The main ability at its disposal is its power to adapt and assimilate to increase its power. It used this power to develop an exoskeleton and assimilate various Space Pirate weapons, which increases its combat potential.[6] The Metroid Prime also is able to generate and feed off of Phazon. It generates Phazon at regular intervals, and is also able to control it to an extent. It will consume Phazon as an energy source, allowing for even greater strength, making it a self-sustaining organism, feeding only on what it generates itself.[6] The physical form of the Metroid Prime can even change, as it did when it transformed into Dark Samus. When it generates Phazon, it can also simultaneously create various Metroids to aid it in battle. Few creatures, if any, have any of these abilities.
Dark Samus
Main article: Dark Samus
The Metroid Prime transforms into Dark Samus after being defeated by Samus. In this form, it has all of the abilities of Samus, but is more powerful. After its transformation, it is no longer referred to as the Metroid Prime. Dark Samus is responsible for the spread of Phazon into Federation space.
Data
Pirate Data
Note: The first three entries listed were not included in the PAL/Trilogy version, and are no longer considered canon.
Note: This is the only entry in the PAL/Trilogy version that mentions the Metroid Prime.
Logbook
Trophies
Gallery
Trivia
References