Navigation menu
Quad
From Metroid Wiki
Game(s)
Creators
Planet(s)

Aether

Area(s)
Threat Capacity

Hostile

Attacks

Energy blasts
Melee attacks

Vulnerabilities
Vulnerable areas

Ventilation system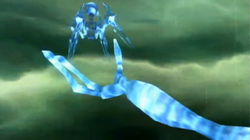 Quads are Luminoth built machines, built by the Sentinel O-Lir to fight the Ing. Like many of the Luminoths' creations, they have been turned against their creators and now attack any enemies of the Horde.[1] Quads are separated into two components, both capable of operating independently.[2][3]
The Main Body is armored and resistant to attacks, however they need to vent off excess heat, exposing a vulnerable system when they do.[3] Although more susceptible to weapons fire, the Command Module is protected by an energy shield composed of light or dark energy that can repel most attacks. These shields can be overloaded with beams of the opposite polarity however.[2] If the Main Body of a Quad is destroyed, the surviving Command Module can seek out an unused body and attach it. Likewise, if a Command Module is destroyed, the Main Body is capable of sending out signals to any nearby Command Modules for replacement.
Quads use a myriad of attacks, with the Command Module utilizing energy based attacks and the Main Body uses melee attacks.[2][3] When connected, the Quad is capable of firing a powerful sustained energy beam. Using that attack however exposes the Main Body's venting system to attack.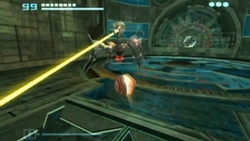 Samus encounters these Mechanoids multiple times in Sanctuary Fortress. She is capable of damaging the Main Body of a Quad with her Boost Ball or Bombs when their venting system is exposed. The less resilient Command Modules can be destroyed when their shields are inactive. Power Bombs are capable of bypassing the shield entirely, destroying the Command Module instantly.
↑ "During the war, I built a number of mechanical sentinels to join me in battle. They were made to fight the Ing, and fight them they did…for a time. One by one, the Ing corrupted them. Now, they attack with no mercy." —O-Lir (Metroid Prime 2: Echoes)
↑ 2.0 2.1 2.2 2.3 "A Quad is formed of two components: the quadruped Main Body and the flying Command Module. These units can function independently, or linked together, as the need arises. The Command Module relies on ranged beam weapon attacks. It can generate a powerful beam shield to protect itself. Opposite-polarity beams can penetrate this shield, however." —Metroid Prime 2: Echoes Logbook "Quad CM" (Metroid Prime 2: Echoes)
↑ 3.0 3.1 3.2 3.3 "A Quad is formed of two components: the quadruped Main Body and the flying Command Module. These units can function independently, or linked together, as the need arises. The Main Body uses melee attacks in battle. Though durable, it needs to vent excess heat from its body. When this happens, it exposes a venting system vulnerable to concussive attacks." —Metroid Prime 2: Echoes Logbook "Quad MB" (Metroid Prime 2: Echoes)
| Language | Name | Meaning |
| --- | --- | --- |
| Japanese | スプリッターヘッド | Splitter Head |
| Japanese | スプリッターレッグ | Splitter Leg |
| Spanish | Cabeza del Quad | Quad Head |
| Spanish | Cuerpo del Quad | Quad Body  |