Agon Energy Controller
From Metroid Wiki
Jump to navigation
Jump to search
The Agon Energy Controller is a room from Metroid Prime 2: Echoes. It is located in the Agon Wastes region of Aether.
The room is relatively small and houses the regional Energy Controller for Agon Wastes.[1] It contains the corpse presumed to be I-Sha's, who died some 1.5 decacycles before Samus' arrival,[2] who was the last Sentinel of the Temple before the Ing came to steal Agon's Light of Aether using the Energy Transfer Module. It also contains a Luminoth Holoprojector that allows Samus' to receive a message from I-Sha.
When Samus scans the Holoprojector, a holographic recording of I-Sha appears and explains the nature of Dark Aether and how she can reclaim the stolen energy in the Temple in Dark Agon Wastes.[3] In conclusion, I-Sha explains how Light Crystals can be used to her advantage and updates Samus' Translator Module, allowing her to interpret Amber holograms.[4] Subsequent scans activate additional holographic messages that contain information regarding the Portals to Dark Aether,[5] the Dark Beam,[6] the Light Beam,[7] and the Dark Suit.[8]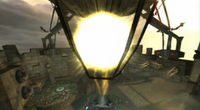 A nearby Amber Luminoth Lore Projector contains the Lore "Saving Aether" (GCN) or "Paradise" (Wii).
After defeating Amorbis, Samus retakes Agon's portion of the Light of Aether and returns to the Agon Temple, where she injects the energy into the Energy Controller. Immediately, the system reacts, improving weather conditions and refracting a ray of light through a lens, focusing the light into a beam that is directed all the way back to the Main Energy Controller, where U-Mos witnesses its light. I-Sha's hologram appears for the final time to bow in thanks to Samus.
After Samus restores the Light of Aether to the Agon, Torvus, and Sanctuary Temples, and talks to U-Mos, she can access Aether's Light-Based Teleportation System and instantly teleport among the four Energy Controllers using the Light Suit.
References