Portal
From Metroid Wiki
Portals are dimensional anomalies from Metroid Prime 2: Echoes. They are found on Aether and Dark Aether and act as gateways between the two dimensions. Most of them were created when a Leviathan struck the surface of Aether, creating its dark twin. Samus often uses them to travel from Aether to Dark Aether and vice versa while on her quest to save the Luminoth, making them extremely important.
History
The Portals were created when a Leviathan struck the surface of Aether and sent the planet into a state of Transdimensional Flux.[1][2][3] The division of Aether into two dimensions caused several spatial rifts between it and Dark Aether, through which the Ing began to travel, eventually leading to war.[3] This led the Luminoth to create machines to artificially generate Portals to take them to Dark Aether.[4]
A group of Space Pirates arrived on Aether some time later in pursuit of Phazon.[5] They discovered an interdimensional Portal and a Luminoth weapon in their base of operations, but the Space Pirates were unable to activate them at first.[6] Once the Pirates activated the Dark Beam and used it in conjunction with the Portal to send expeditions to Dark Aether, they found that Dark Aether had even greater stores of Phazon than the dimension in which they currently operated.[7] They used the Portals at length in order to perform Phazon extraction raids.[8]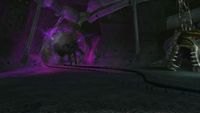 Samus Aran first encounters a Portal when she travels to Aether in search of Squad Bravo. While in Hive Chamber B, she follows Dark Samus through a temporary Dark Portal and stumbles into the dark world, where several Warrior Ing steal her equipment before she narrowly escapes. As she travels across Aether in an effort to repel the Ing, Samus uses these Portals to travel to Dark Aether and recover the stolen Light of Aether.
After the defeat of the Emperor Ing and the demise of Dark Aether, the Portals vanish.
Classifications
Rifts
Samus encounters two types of naturally occurring Portals, called Rifts: white-colored portals found on the surface of Dark Aether known as Light Portals, and black-colored portals found on the surface of Aether known as Dark Portals. Before being energized, Rifts are inactive and cannot transit matter. When a Portal is energized, by means of Light Energy on Light Portals and Dark Energy on Dark Portals, the Portal temporarily becomes stable enough to transport matter through the Interdimensional Void.
Some Rifts can be accessed from the surface of both worlds, while others are only accessible traveling in one direction. The majority of these Rifts are constant, though some appear intermittently, to be used only one time.
Portal Generators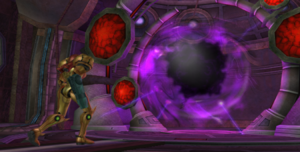 Samus also encounters three Portal Generators built by the Luminoth, one in each area of Aether, that create artificial gateways to and from Dark Aether. The Portal in Agon Wastes requires solar energy refracted through a series of industrial lenses to provide power to the Portal dynamo.[9][10] The other two Portals, however, have no visually apparent power source. An interactive console on the Portal Generators can be scanned to initiate Portal fabrication.[11]
These generators are also equipped with safety systems that prevent travel through the Portals if the threshold on the other end is obstructed in such a way that rematerialization is impossible.[12]
Portal Locations
Data
Logbook Entries
Scan Data
Manual
Gallery
References